It's that time of year again. The days are growing shorter, the mornings and nights colder and our skin eeeeep so white and dry. Fear not ladies. This blog is all about giving you a few tips and tricks to applying a perfect DIY tan.
We understand that as the winter months progress coming into to salon and standing in a completly tiled room in the nude is less than appealing. So we stock the best range available in DIY tanning in Australia, Sunescape.
Born in Bondi, Made in Australia. This fabulous all Australia range is beauty products with a conscience. Not tested on animals, eco certified DHA and tons of essential oils to have your skin nourished whilst giving you a golden glow.
Step 1: Prep
Make sure you have prepped your skin correctly with a deep scrub, we recommend using the Sunescape Exfoliating Body Polish $24.95. This product contains AHA's which munch away chemically on your dead skin cells, accelerating cell turnover and stimulating collagen productsion.  Whilst physical eco beads slough away surface dead skin giving your skin a fresh, soft feeling.
Step 2: Hydrate Dry Skin
There is a huge myth that moisture and tan do not mix, this is a huge misconception. As if your skin is to dry tan will not only not absorb in some areas but other areas will grab. leaving you looking more like a patchwork quilt than a golden goddess. Using the Sunescape Hydrating Body Butter rub into palms, feet (including tops), elbows, knees and anywhere else you have dry patches.
Step 3: Now it's time to get down to the business of bronzing.
Hannah advises using our Applicator Mitt $10.95,  It really is the only way to apply tan as its blends beautifully and will prevent tan transferring onto palms. With your mitt on your predominant use hand pump three pumps of tan onto the mitt. Starting at your feet and work your way up moving fast. If your legs are particulary dry, place 1 part hydrating body butter to two parts tan.
Ince you have tackled your largest areas e.g. the limbs, stomach and back, start to work on your arms.
Starting at your chin line, blend the tan around to your back and down into your décolletage and arms. We do not advise going over your armpit but around it. To give your hands a natural-look colour, mix part-tanner, part Sunescape hydrating body butter and massage into the backs of hands, not forgetting in between your fingers.
If you see the tan darken too much in any areas as it develops, simply grab a towel and buff the colour down or use your mitt to blend.
Step 4: What now…
Best things about the Sunescape do it yourself Mousse is that its wearable. meaning you do not need to place on an oversized daggy night dress and go to bed. You can put on your Saturday best and hit the town. The tan will continue to deepen the longer it's on the skin but you will have instant colour.
INSTANT SELF-TAN MOUSSE
SELF-TAN APPLICATOR MITT
TAN OFF MITT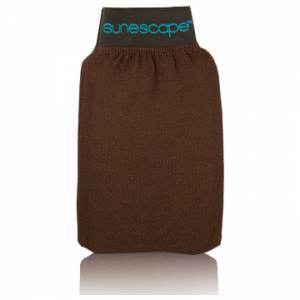 SUNESCAPE EXFOLIATING SCRUB